June 22, 2019
If you have family living abroad, aren't you thankful for the Internet?
It makes connecting much, much easier (and cheaper as long as you have an Internet connection).
Travel Gift
Earlier this week, I chatted with my sister about pasalubong.
A pasalubong is a Filipino word that refers to a travel gift.
Now, when I say 'travel,' it could mean travel from work, from another country, or just from the nearby store.
My sister asked me about pasalubong because our mom would be visiting her soon and she wanted to do some early shopping before our mom arrives.
Shoes, Bags, Makeup?
My sister asked for our shoe sizes — all of us including my husband and me. She also asked for the kind of gifts the kids would appreciate.
Then, my sister asked me what gift I wanted – though she already had something for me.
I asked if power banks are affordable at their corner of the world.
Then, she asked if I needed the kind for a carry-on bag or the heavy duty type.
It turns out their heavy duty power bank can charge a car. 😮
(I won't be needing that one… yet. 😉)
So, I said I needed one for my phone and laptop, if possible.
(If you're an iPhone user, you know how long – or short – the battery life of an iPhone can be. If you're not an iPhone user, I suggest that you save something up for a power bank just in case you run out of battery while you're in the middle of something important.)
The thing is that I didn't think I'd be needing a power bank for my laptop anytime soon because my laptop has been power-dependent for years.
You may be wondering:
What's all the fuss about the laptop?
Laptop Backstory
If you're one of our *coffeemates, you know by now that I have been working from home. If you're new to our coffee session, welcome! I'm happy to have you here.
(*Coffeemate: Someone who reads this blog or someone who has coffee sessions with me either in person or online.)
The laptop…
I mentioned on my post Day 115: Fighting the Darkness that I have a clock-sensitive laptop.
What does that mean?
It means my laptop shuts down when it's night time… on its own.
Surprised? Me too.
No Soda for Me
A few years ago, my kids were watching a movie on my laptop while I was at the kitchen washing the dishes.
Then, one of my kids came to me and calmly told me that the soda spilled on my laptop.
I ran and found a soda-drenched pink keyboard protector. (Thank God for keyboard covers!)
After this incident, my laptop started having its "tantrums."
First, the battery life showing on my screen keeps getting lower despite being plugged in until it reached 0% – forever.
In other words, it became power-dependent.
Then, it started shutting off on its own.
We brought it to the service station and my fears were confirmed – we need to change the motherboard if we want my laptop to work as if nothing happened.
Going back to the power bank…
Now, you see why I won't be needing a power bank for a laptop even though it would have been great to have back-up power for a drained and tired computer.
My sister said that the big sale happens after Christmas at their part of the world.
I was totally fine with waiting since I have been using the said laptop for years in its current condition plus I know that my husband and I couldn't afford to buy a new computer yet.
I would have to continue compromising with my laptop and work during its "waking hours."
I was blessed even more during our conversation when my sister's husband volunteered to buy me a power bank. I appreciate the love and kindness they shower towards my family and me.
I said hi and thanks to my sister's husband during our video call then my sister and I carried on with catching up regarding family matters.
No Power Bank for Me?
Days passed and today, I was out doing volunteer work for my Jesus.
I was in charge of returning the ministry laptops so I was left to wait for the personnel to pick them up from our station.
Since our work was officially done, I took my phone out and checked if I had any unread messages.
I opened my Messenger app and saw my sister's message that said:
We didn't buy you a power bank. Instead, this 😊
She sent me this photo:
Really!?!
Waaaaaaaaaaaaaaaah!!!!! 😮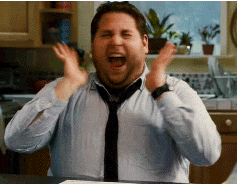 I couldn't contain my excitement!
I was jumping and shrieking my heart out!
I couldn't believe my eyes.
Lord, really? It's for me?
I was overflowing with joy!
I was basking in the Lord's goodness and overflowing love!
I was in awe and exhilarated that I had to share this goodness – His faithfulness to someone.
If I didn't open my mouth or choose to keep it shut, it felt like my heart would break free from my body and would literally go running around to declare God's glory.
It was just like how Jesus' followers felt when Jesus was about to enter Jerusalem. Luke 19:37 (NLT) says,
When Jesus reached the place where the road started down the Mount of Olives, all of his followers began to shout and sing as they walked along, praising God for all the wonderful miracles they had seen. (emphasis mine)
When the Pharisees told Jesus to rebuke His followers for their praises, Jesus said,
"If they kept quiet, the stones along the road would burst into cheers!" – Luke 19:40
Thanks for Hand-Me-Downs
Some of you could be wondering why I am so thankful for this gift.
Since I became a teenage mother, I told myself back then to be thankful for the second-hand gifts I receive. In my mind, whatever new thing I was supposed to get, I would rather have my family give it to my child.
While gratitude is great, I believe that this mindset has helped me cope with the hurts as well as the potential pain that I would feel if everyone received a gift apart from me.
(I'm realizing this just now as I read and re-read this entry. Thank You, Lord, for more realizations!)
I was used to getting second-hand clothes, second-hand shoes, second-hand gadgets, and other second-hand stuff that getting something new – a gift that is intended for me – feels different.
A good kind of different.
Don't get me wrong – there is nothing bad or ugly about hand-me-downs. My point is that I am thankful to the Lord that somehow, this hand-me-down matter has protected my heart from the kind of entitlement where I'd think that I deserve the "best" and that the "best" equates only to the 'new' stuff.
My Rewarder
I would like to note that the news about this wonderful surprise came within the same day of sharing to my ministry team how the Lord has worked in our credit card dilemma.
(Yes, one debt down! 👆)
You know what? This is the second time that this happened:
I share God's love/faithfulness → God gives His blessing
You can read the first time this happened in my post Day 165: Never Late under the substory Day 165: In Awe (Part 2) where the food blessing came after I shared Jesus' love to my son's therapists.
While I was praying to the Lord and thanking Him for this wonderful gift, I said, "Lord, thank You for this gift. I know I don't deserve this."
The Lord replied, "You do because I am your Father. I am your Rewarder."
Not because of who I am, but because of who God is.
Amazing is the Lord!
Thank You, Jesus!
Thank You, Jesus! Thank You, Jesus! Thank You, Jesus!
The blessing hasn't arrived yet but I am thankful and grateful and in awe of Your awesomeness and Your goodness. Truly, You know what we need and You provide for them even before we ask You of it.
Thank You that I get to experience You this way – that You make me feel and experience that I really am special to You like what You said in Your Word, that You care enough to take notice of my needs, and that You bless me simply because You love me.
How precious are your thoughts about me, O God. They cannot be numbered! – Psalm 139:17