Date: June 7, 2019
This week, I started having coffee sessions with my Jesus.
How?
It all started when my cellphone charger malfunctioned.
No phone charger means no cellphone use.
No cellphone use means no Bible app.
No verse of the day.
No Bible plan.
So, what did I do?
I did my Bible reading the old school way.
I took out my Bible, my pens (red and black), and highlighter, and read chapter 3 from the book of Genesis.
You may ask:
Why Genesis 3?
A Little Backstory
Our discipleship group, a.k.a. dgroup, has been studying Genesis using the Precept Upon Precept material.
If you're a regular 'coffeemate' (definition: a person who reads this blog or someone who has coffee sessions with me either in person or online), then you may have encountered the phrase Precept Upon Precept in my previous blog Day 165: Never Late.
We use this material to learn how we can study the Bible inductively.
How does this inductive approach look like?
Reading and re-reading the chapters.
Observing keywords (repeated words, phrases, statements, names, events; watching out for words such as then, so, but, etc.)
Learning the context of the book you are studying
Knowing the background of the book (writer, date of writing, historical and cultural context in the time of writing, etc.)
Getting the main theme of the book
It may sound like it's a lot of hard work.
At first, yes. (No reason to deny it. There's more to the list above.)
But once you get used to "interrogating" the text (asking the 5Ws and H questions), it's amazing what you can discover.
While we learn a lot from listening to pastors and other speakers, nothing beats the discoveries revealed to us by the Lord Himself as we conduct our own study of God's Word — that is IF we know how to do it right (thus, Precept Upon Precept).
A Little Back-Backstory
I always wanted to dig deeper into God's Word but I never knew how.
They said, 'read.' So, I read.
I read as of I were reading a storybook. (Nothing wrong with that, but this kind of reading didn't allow me to pause and interrogate the text.)
I used to envy those who seem to have a very close relationship with God.
They would say things like,
God told me…
God impressed in my heart…
God wanted me to…
How can they be so sure!?
And I wanted that same relationship with God — the kind that you're so close you can finish each other's sentences. (You know what I mean.)
Yes, there have been times when the Lord's message was so clear that I knew what needed to be done. Most of the time, this happens when I need to make a major decision.
But that's not enough for me.
I want to experience the Lord even in my 'small' decisions. I want to feel Him in my daily life. I used to think this was difficult to achieve.
I couldn't be more wrong.
Back to Genesis 3
I opened my Bible and started reading.
I read slowly and with an observant eye.
I try to apply what I'm learning regarding studying the Bible using the inductive method (I'm currently reading the book How to Study Your Bible by Kay Arthur).
I was amazed at the things I learned after applying the inductive method!
Here is one myth — one major lie — that was set right as I read through Genesis chapter 3.
Myth: Adam and Eve were banished from the Garden by a strict and disciplinarian God.
When I see the heading "God's Judgment," I used to think that God kicked Adam and Eve out of the Garden because they didn't follow God.
While I am not minimizing the severity of their disobedience, did you know what God did after He told Adam and Eve the consequences (Genesis 3:14-19) of their action (or inaction, on Adam's part)?
God did not immediately banish Adam and Eve.
Genesis 3:21 says,
"The LORD God made clothing from animal skins for Adam and his wife."
God was the One who made clothing for the couple.
An animal was sacrificed. Blood was shed so Adam and Eve can be protected.
God initiated that act. He provided protection.
Sounds familiar?
(Tip: Think about the ultimate sacrifice Who had to shed His blood so we may be saved.)
Then, verse goes on and says,
22 Then the LORD God said, "Look, the human beings have become like us, knowing both good and evil. What if they reach out, take fruit from the tree of life, and eat it? Then they will live forever!"

23 So the LORD God banished them from the Garden of Eden, and he sent Adam out to cultivate the ground from which he had been made.
Did you see what happened there?
Here's a summary of Adam and Eve's encounter with the Lord after they have eaten the fruit from the tree of knowledge of good and evil just so you won't get lost:
The Lord God gave Adam and Eve a chance to take responsibility for their action.
The Lord God mentioned the consequences of their decision.
The Lord God provided clothing to Adam and Eve that's made of animal skin.
We saw the predicament if the couple ate from the tree of life given their 'condemned' status.
The Lord God sent the couple out of the Garden so they won't be tempted to eat from the tree of life that could result in eternal detachment and disconnection from the Lord.
You see, Adam and Eve had to go for their protection.
I could just imagine God's heart aching as He watches Adam and Eve, whom He loves, walk away.
But, the Lord loved them so much that He had to send them away for their own good — so that they wouldn't suffer a condemned forever.
In this story, many people see ONLY the 'just God.'
Many fail to see the merciful God.
How does this realization apply to my life?
I came from a performance-oriented family.
I think many families are performance-oriented.
More often than not, the children's performance becomes the defining factor of how much their parents or family would love them, accept them, and make them feel like they belong.
So, if a child did something that's not pleasing to his or her family, that act could label that child as any of the following: the black sheep, ungrateful, hopeless, stubborn, stupid, and 'not worth their money' to name a few.
How my parents (or grandparents) acted towards both the good and, especially the bad things that happen at home has greatly impacted how I view God.
Since my grandmother is strict and disciplinarian who literally banished me when I got pregnant at a young age, that's also how I saw God — strict and disciplinarian.
I was only able to see God's hand and His grace in my situation as a young mother after I have attended a recovery program that helped me correct my distorted views of God.
During my 'exile,' it was the Lord who sustained me and my baby. He was the One who gave me the strength to carry on despite the persecution. He even made a way to make sure I would have a great doctor and a painless delivery. (I have a very low tolerance for pain. But God knows that as well.)
God knew I couldn't save myself.
He had to intervene.
Like in the case of Adam and Eve, God knew it was impossible for us, humans, to meet His standards. That's why He sent Jesus.
And I couldn't be happier that He did.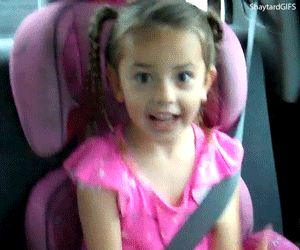 Now, you…
If you've made some very poor decisions in your life, if you feel shameful about the things you did or have happened to you, know that:
First, you are not alone.
I myself have experienced shameful things done to me and I have done some shameful things myself.
You may say:
But, Mama Sel, you don't know the things I did and the things that happened to me!
Well, I could say the same to you. But instead of us focusing on what went wrong, let's take a look at this second point:
Second, you are NOT beyond the point of Jesus' reach.
You can be redeemed. There is hope in Jesus — hope for joy and peace in your heart despite the storms in your life.
(Trust me, if there are no storms in your life already, it's maybe because you're address is already '6 Feet Under.')
BUT…
To be able to experience Christ's redemption, you've got to be willing to reach it — to accept the gift handed out to you by Jesus Himself.
(Salvation is a gift — meaning it's 'free.' There's nothing you can do to buy it or earn it. It cannot be bought. It cannot be earned. Jesus said on John 14:6, "I am the way, the truth, and the life. No one comes to the Father except through me.")
Jesus is currently knocking on the door of your heart, asking if you would let Him in — if you would let Him be your personal Lord and Savior because as I mentioned earlier, we cannot save ourselves on our own.
Don't be afraid. Jesus truly loves you that He offered his life for you. He chose to die instead of seeing you die. But the question is: Are you going to accept this wonderful gift?
(If you are, say a short prayer that goes like this:
Jesus, I thank You for dying on the cross in my place.
I'm sorry that I have sinned against you. Help me turn away from my ways that displease You. Save me, my Savior, that I may experience your forgiveness and grace.
I need You, Jesus — in my heart and in my life. Be the Lord over me that I may stop striving on my own, stop playing God, and start letting You — the all-powerful, gracious, and loving God — be the Lord over my life.
By Your grace, give me the power and the strength to do Your will, Lord, because the life I now live is not mine but Christ's.
Thank You, Jesus, for Your forgiveness and for Your unfailing love — the kind of love that NEVER gave up on me, and never gives up on anyone. In Your mighty Name I pray, Amen.)
Third, God's love never ends, never fails, never gives up on you.
If you think you're unredeemable, think again.
Don't put God in a box. He can do mighty things in your life. He can turn your sorrow into singing, your mourning to dancing IF you'd let Him.
So, will you let Him?
(If you answer yes, say the short prayer I included on item two above.)
Thank You, My Jesus!
I praise and thank God for giving me not only the opportunity to be closer to Him as I read His Word, but also the tools I need to know Him and understand His message.
I am in awe of the treasures I discover in His Word as He corrects my distorted views of Him (and I look forward to you correcting your distorted views of Him). 
Now, I am excited each time I would open my Bible — excited about what the Lord would reveal about Himself each day.
Thank You, my Jesus, that because of what You did on the cross, I can boldly come to the throne of our gracious God. Because of You, I have direct access to God the Father as Your Holy Spirit guides me on this earth. Because of you, I don't need to suffer a condemned forever. 
For God saved us and called us to live a holy life. He did this, not because we deserved it, but because that was His plan from before the beginning of time — to show us His grace through Christ Jesus. – 2 Timothy 1:9